Meet Fatima and Vilma, Jai Jagat fellows sharing their learning experience.
Fatima Pinango from Ecuador and Vilma Chanta from El Salvador are two of the nine ILC young leaders who joined the ILC-Jai Jagat fellowship in November 2019. They spent 21 days in India to learn about strategies of non-violence, which could be applied to their work on land rights in their organisations and communities. Fatima is a young leader in UCCOPEM, one of the organisations linked to ILC NES Ecuador. In FUNDE, Vilma works with rural youth and women to promote their active participation in territorial development. In this blog they share what they learned and reflect on the Latin American context. 
Jai Jagat emerges in India from Ekta Parishad, a social movement and ILC member that mobilises people for social change and justice. Ekta Parishad was founded by Rajagopal, a Gandhian activist, known for visiting groups of landless people to implement nonviolent social action. The goal of the social movements were to empower poor communities and build collective activism. After seeing the profound impact of individual groups on their own communities, the next step was to connect them to each other to create a movement that provides large-scale solutions to common problems.
NINE YOUNG LEADERS FROM THE ILC NETWORK ARE MARCHING FOR A BETTER FUTURE WITH THE ILC-JAI JAGAT 2020 FELLOWSHIP PROGRAMME.
this is their journey
NON-VIOLENT ACTION FOR DIALOGUE
Our main motivation to become Jai Jagat fellows was to learn the strategies to build a social movement based on a nonviolent approach. We also wanted to learn how to use them for land rights, especially as a tool for advocacy and dialogue. The Jai Jagat reminds us of the importance of giving a voice to the people, especially those most in need, to achieve justice and change.
As Latin American young activists, we see that dialogue in our countries is often difficult to establish between the government and the civil society. We have witnessed many sad chapters of violence and repression suffered by land defenders, environmentalists, indigenous peoples and members of civil society organizations.
We wanted to be part of the Jai Jagat campaign to learn about how to build bridges with different parties in order to overcome this situation.
Social movements put pressure on decision-makers. In order for nonviolent movements to be effective, they need to be open for dialogue whenever possible. Through peaceful massive marches, or padyatras, the Ekta Parishad movement reaches decision-makers, making them accountable, and achieves changes in the access to land for marginal populations, dalits, and tribal indigenous groups, Adivasis. The Janadesh Satyagraha march (2007), for example, mobilized 25,000 landless people and activists from 15 states of India. It resulted in the creation of the National Council for Land Reform led by the Ministry of Rural Development, with participation of grassroots organizations. Five years later in the Jan Satyagraha march, 60,000 landless people walked 350 kilometres and got the National Land Law Reform written.
In Latin America, most of the agrarian reforms occurred in the 20th century. In most countries processes were not successfully completed due to a weak political will and lack of spaces for dialogue and negotiation. This continues to be one of the greatest challenges. While reckoning the differences between India and Latin America, why not imagine that a nonviolent movement and approach in our region could be useful to move our land reforms forward? Why not use it as a strategy to convene different actors and achieve agreements?
A GLOBAL MOVEMENT FOR COMMON ISSUES
Ekta Parishad has always maintained a coordination strategy with international ambassadors, and has built on that to scale up to a global level. Jai Jagat 2020 builds on the experience in India and becomes a worldwide campaign by convening different voices around global problems. With a spirit of greater connection, people together take a position and act against global injustices and inequalities.
The 2030 Agenda for the Sustainable Development Goals provides the common framework. With the non-violence approach as a basic condition, Jai Jagat connects and mobilizes us. It also increases awareness about our role in the search for a better world. We face common challenges despite belonging to different contexts.
ELEMENTS FOR GOOD LEADERSHIP
When building a nonviolent social movement, it is important to consider the following elements:
The importance of respect and trust for others' actions. Every contribution counts, even the smallest one is necessary to achieve the main objective.      
The commitment of each member is made through participation and ownership of the cause, preventing members from feeling used to obtain political benefits
Discipline, tolerance and patience are practiced not only as values, but also as a method, which emphasizes the results as well as the process.      
The nonviolence approach requires diminishing the ego, increasing empathy to connect with others and leadership in a positive and conscious way.      
Have the ability to dialogue, even with groups or people who seem opposed to our ideas.      
Be open to new ideas and ways to regulate and create public policies beyond individual interests.      
Personal sacrifice as a way to inspire and mobilise others, and identify them with the cause.
Unlike India, in Latin America these elements may be more related to a moral, ethical or spiritual dimension of each individual rather than to collective level where a social movement is built. The elements could be seen as extravagant and even vague because of historical and cultural differences. However, these shared values are needed to build trust and in turn lead to a stronger and more cohesive movement, able to achieve common goals more effectively.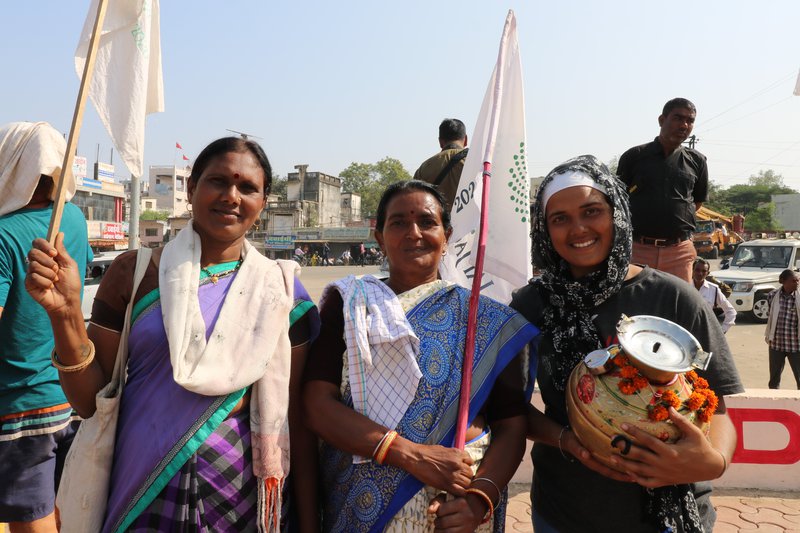 BELIEVING IN THE POWER OF PEOPLE
Rajagopal and Jill Car Harris, another of Jai Jagat's leader, reflected on the connection we have with society and with ourselves. Despite the skepticism we may have for having grown up in contexts where competition is more important than solidarity, our days in the Jai Jagat made us feel part of the change and encouraged us to keep fighting for justice and peace.
Even with greater political and economic pressures, the ultimately key to social change is always believing in people. "The more difficult the problem is, then, the more the desire for nonviolence must rise" (Rajagopal PV)
Due to the world health crisis caused by COVID-19, the Jai Jagat march has been suspended. However, the lessons learned remain. The situation demands reflection on how we can contribute to overcome the great challenges of our society: poverty, inequality to access resources such as land, climate change, violence. This crisis is an opportunity to rethink our social and economic systems and to increase our awareness on the need for more solidarity. Tolerance, discipline and patience are fundamental for the new way of life we must adopt and to build more inclusive societies where, hopefully, all people can fulfil their rights to the land.